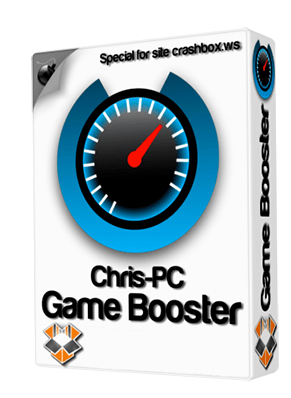 File size: 7.03 MB
Chris-PC Game Booster is a an outstanding product of Chris P.C. srl that will rocket your PC and get its full hardware potential. Many of us relax by reading books, listening to music and most of us by playing games. And yes, Chris-PC Game Booster is a software tool meant for those who want to get the utmost from their PC hardware in order to play their favorite games.
File size: 9.86 MB
Chris-PC RAM Booster will definitely improve things! Your computer will get a boost, since RAM Booster will monitor the RAM (Random Access Memory) usage and when that gets to a certain low memory threshold, it will trigger the process of freeing up memory for newly opened programs while at the same time move the old programs from the RAM memory to the virtual memory on the disk. Lets see what actually happens under the hood: when your PC's physical RAM gets full of opened applications, typically Windows starts opening any new applications using the hidden buffer file on the disk called pagefile.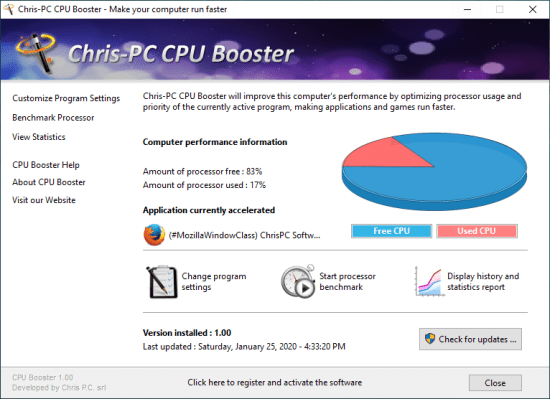 File size: 5 MB
Chris-PC CPU Booster takes advantage of multi-core processors by notifying the foreground application to run on the CPU core that is being used the least. For instance, if your computer has two CPU cores and first core is at 65% and second core is at 35%, then the software makes sure the application will run on the second core.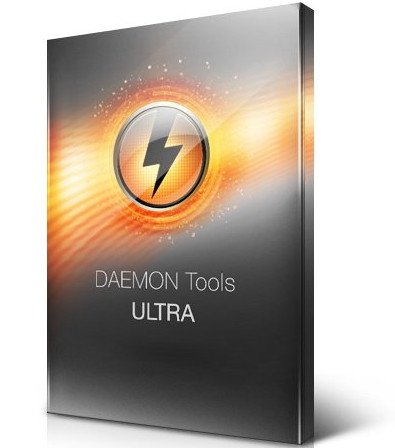 File size: 32.6 MB
DAEMON Tools Ultra is the most powerful, ultimate and advanced imaging software we've ever created. Get the immense list of possibilities to work with virtual drives, create bootable USB-sticks for operating system recovery, use RAM disks to speed up your PC and evaluate the unique iSCSI Initiator that allows connecting to USB devices. Note : Internet is required to verify license to Mount Disk
File size: 4.5 MB
XPS, expanded as XML Paper Specification, is a page description language that can describe an individual document, which contains multiple pages. Mgosoft XPS To PDF is a simple tool that supports converting your XPS documents effectively, into PDF format files. Mgosoft XPS To PDF facilitates the conversion of Microsoft XPS documents into well-known PDF format files without sacrificing content while giving quality output. It is capable of generating optimized, high quality, and vector-based PDF format files as output out without going over GDI, or going through PDF printer driver.
Windows x86/x64 | File size: 16.9 MB / 19.17 MB
The Premier Vinyl Cutting Software. The easiest way to design and cut signs, lettering, logos, shapes, graphics, decals and stickers. Take your sign making to a whole new level with Easy Cut Studio. The #1 vinyl cutter software for Windows. Introducing Easy Cut Studio
File size: 8.26 MB
Asmwsoft PC Optimizer is a collection of over 20 system-maintenance and optimization utility to tune up windows performance. Optimization Tools:
Languages: Multilingual | File size: 76.5 MB
A professional Amazon Music converter designed to convert and download Amazon Music playlists from Amazon Prime Music and Amazon Music Unlimited to MP3, FLAC, WAV, AAC, M4A, M4B with a 5X faster batch conversion speed for offline playback anywhere. With Amazon Music Prime and Music Unlimited subscription, you can download Amazon Music for offline listening but you don't own the real Amazon audio files. Luckily, DRmare iMazonKit Music Converter is here opt to help Amazon Music lovers to download songs from Amazon Music to the local computer.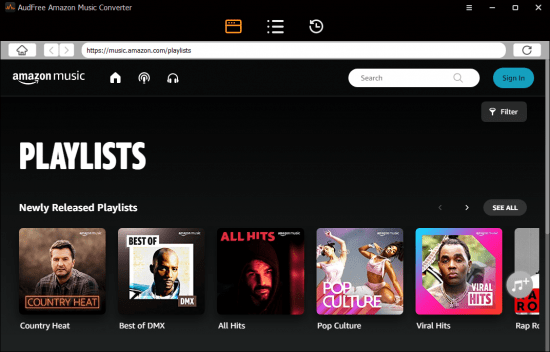 Languages: Multilingual | File size: 76.6 MB
Extraordinary Amazon Music downloader and converter specialized in Amazon Music download and format conversion to losslessly convert Amazon Music to MP3, FLAC, WAV, etc. for offline listening everywhere. Amazon provides four tiers for users to explore music trip. It includes Amazon Music Free with top playlists and stations, Amazon Music Prime with 2 million songs and personalized stations, Amazon Music Unlimited with 70 million songs, popular playlists and stations, and Amazon Music HD with over 70 million HD, Ultra HD, 3D songs and other content.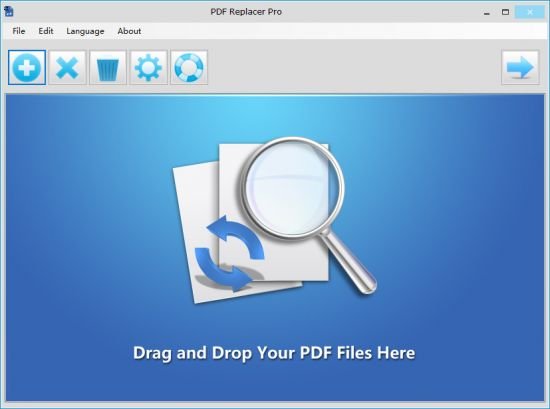 Languages: Multilingual | File size: 51.1 MB
PDF Replacer is a PDF text replacing software utility based on Windows. With this handy tool, you can easily replace text in multiple PDF documents with new text, and also you can modify the replaced text font and text decorations such as bold, italic, underline and linethrough. If you only want to replace the text in some PDF pages instead of the whole PDF document, PDF Replacer also provide you the page range option, which can enable you to replace only your selected pages essily. In addition to English, German, and French languages, PDF Replacer also supports PDFs created in more than 50 languages of almost all countries.